November 2021 Market Review - Equity
The emergence of a new Covid variant, Omicron, has led to concerns that the growing wave of Covid cases globally may be accelerated. The multiple spike protein mutations of Omicron suggest it might benefit from immune escape, although given limited data, there are still questions on how it may impact the effectiveness of the available vaccines and on the relative severity of illness it causes. Uncertainty has caused many countries to proceed with an increased caution, toughening their COVID-related restrictions, resulting in a sell-off in Equities and a resurgence of the "Stay-at-Home" trade across markets.
Our strategies have behaved well against this backdrop. Both our European and Global market-neutral strategies were positive on Friday 26th, up 0.44% and 0.09% respectively, while MSCI Europe corrected by 3.7%. Our long, low-risk strategies, which had lagged since the beginning of the year in the risk-on move by the market, have significantly out-performed in the last few days of the month, with picks in the Health-Care and Utilities sectors performing positively. Our long, Machine-Learning driven portfolios also continued to perform strongly, maintaining their out-performance over the last few months. Momentum picks were in-line with the market, while our Value-driven stock selection was the only one to under-perform on the downside. Our short selections also contributed positively, as some of the most speculative and overvalued names in the market saw large falls, with some of the best picks being in the Airlines and Biotech industries.
We believe that the performance of our strategies over the last few days illustrates the de-correlation they offer to portfolios at a time when risky assets correlate to the downside. The high inflation currently experienced by developed countries (as illustrated by the current 6% yoy inflation in Germany, the highest in 30 years) would be expected to have an impact on the ability of the central banks to react early/strongly in the case of more downside for risky assets, which could accentuate the volatility in Equity markets. With valuation dispersion remaining at historically high levels, we expect this to remain a positive environment for fundamental-driven market-neutral approaches after a few difficult years for the asset class (Value Crash 2018-2019, Covid 2020) (cf. chart below).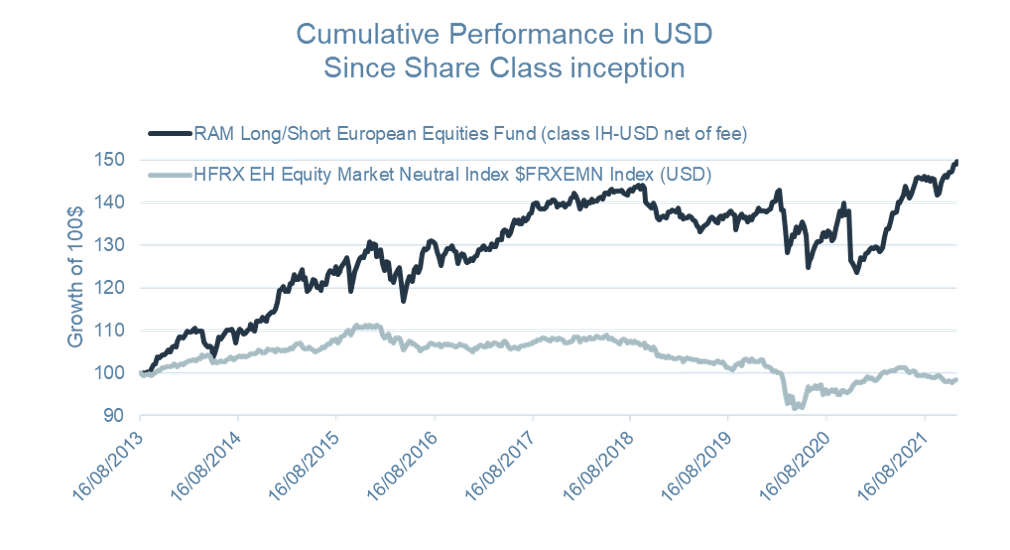 Source: RAM AI as of 30.11.2021, past performance is not a guide to future performance
Legal Disclaimer
This document has been drawn up for information purposes only. It is neither an offer nor an invitation to buy or sell the investment products mentioned herein and may not be interpreted as an investment advisory service. It is not intended to be distributed, published or used in a jurisdiction where such distribution, publication or use is prohibited, and is not intended for any person or entity to whom or to which it would be illegal to address such a document. In particular, the products mentioned herein are not offered for sale in the United States or its territories and possessions, nor to any US person (citizens or residents of the United States of America). The opinions expressed herein do not take into account each customer's individual situation, objectives or needs. Customers should form their own opinion about any security or financial instrument mentioned in this document. Prior to any transaction, customers should check whether it is suited to their personal situation and analyse the specific risks incurred, especially financial, legal and tax risks, and consult professional advisers if necessary. The information and analyses contained in this document are based on sources deemed to be reliable. However, RAM AI Group cannot guarantee that said information and analyses are up-to-date, accurate or exhaustive, and accepts no liability for any loss or damage that may result from their use. All information and assessments are subject to change without notice. Investors are advised to base their decision whether or not to invest in fund units on the most recent reports and prospectuses. These contain further information on the products concerned. The value of units and income thereon may rise or fall and is in no way guaranteed. The price of the financial products mentioned in this document may fluctuate and drop both suddenly and sharply, and it is even possible that all money invested may be lost. If requested, RAM AI Group will provide customers with more detailed information on the risks attached to specific investments. Exchange rate variations may also cause the value of an investment to rise or fall. Whether real or simulated, past performance is not necessarily a reliable guide to future performance. The prospectus, key investor information document, articles of association and financial reports are available free of charge from the SICAVs' and management company's head offices, its representative and distributor in Switzerland, RAM Active Investments S.A., Geneva, and the funds' representative in the country in which the funds are registered. This marketing document has not been approved by any financial Authority, it is confidential and its total or partial reproduction and distribution are prohibited. Issued in Switzerland by RAM Active Investments S.A. which is authorised and regulated in Switzerland by the Swiss Financial Market Supervisory Authority (FINMA). Issued in the European Union and the EEA by the Management Company RAM Active Investments (Europe) S.A., 51 av. John F. Kennedy L-1855 Luxembourg, Grand Duchy of Luxembourg. The reference to RAM AI Group includes both entities, RAM Active Investments S.A. and RAM Active Investments (Europe) S.A.
Please, select your profile and country of residence