November 2020 - November rotation – strong rebound of Low Quality companies affected by the lockdowns and impact on our Beta-Neutral strategies- Systematic Fund Manager's Comments
November 9th 2020 stands out as the largest rotation in market history, with euphoria in the market following the Pfizer news of promising vaccine results initiating a major risk-on move by the market. The market upside was alimented by a very large rotation into companies the most affected by current lockdowns. The most exposed companies to the wave of Covid that had built up in preceding weeks, with the most negative current earnings revisions, cash flow destruction, widening loss expectations, were bought back aggressively on that day after the game-changing news.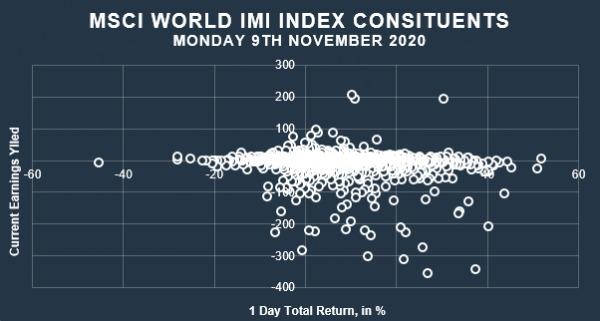 Source: RAM AI, Bloomberg as at 9th November 2020

It resulted in an historical negative performance for momentum factors across the global market, impacting extensively earning momentum, price momentum stocks across market cap segments.


Source: Morgan Stanley European Derivatives Desk, Bloomberg
Past performance is not a reliable indicator of future results.
This tail event impacted our approach on the Systematic Equity side, particularly in European Equities, given our momentum, sentiment, quality, low risk biases all leading us into the same direction given the second wave acceleration in Europe then. While the RAM European Equities Fund* suffered an underperformance during the month, we remain in line with the market YTD. It is within our short books that we suffered the most, impacting particularly our RAM Long/Short European Equities Fund** .
Focus on RAM Long/Short European Equities ("the Fund")
The RAM Long/Short European Equities Fund (Class I-EUR ) suffered a drawdown of -8.63%, bringing us back to the level of last June after the first rotation experienced this year.
Since March 2020, the stay-at-home environment impacted heavily a number of industries' such as companies within hospitality, leisure services, transport, airlines, etc. These companies with negative earnings and price momentum dynamics were particularly present in our short book that continued to play the trend in the build-up phase of the second wave. The perspective of a vaccine radically and immediately changed investors' expectations, leading to rebounds of more than 30% on the day in some sub-industries.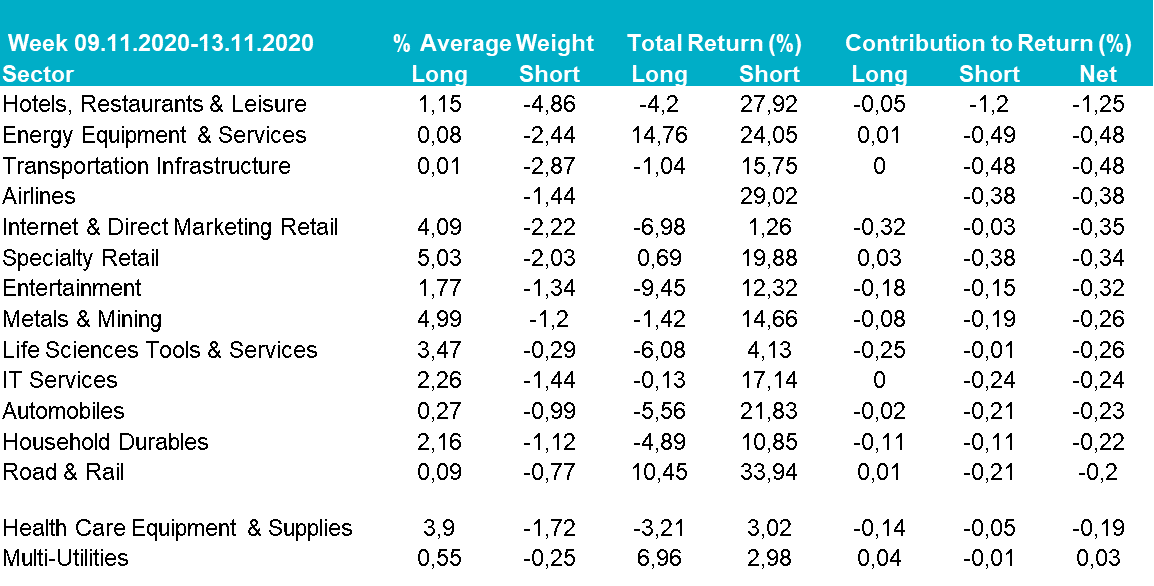 Source: RAM AI as of 13.11.2020, Bloomberg
This tail event has been amplified furthermore by a strong short covering on November 9th 2020 and following days as illustrated in the below graph for the US market showing short interest decreasing sharply, which reflects well the current capitulation on picking shorts by investors globally. The trend to historically low levels of Short Interest after government and monetary interventions have only been exacerbated by last month's market rotation.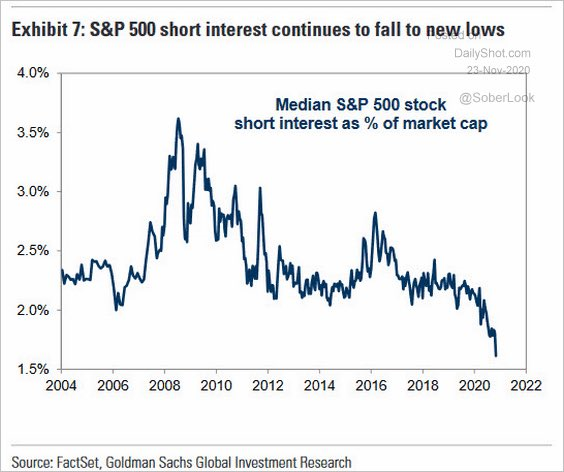 As of 23 November 2020
Unfortunately, when we could have expected a positive news on the vaccine front to have a negative impact on the return of our portfolio, our risk monitoring did not indicate prior to this tail event, whatsoever, the magnitude of this tail risk in our portfolios, the rotation being unprecedented historically in its violence. All our risk indicators remained below our internal regulatory guidelines. As highlighted during our last communication, the estimated VaR of the portfolio was far below our internal VaR budget of 15% and the regulatory limit of the fund of 20% prior to the event on November 9th, 2020.

Future Outlook
We believe that many companies are still fragile, and uncertainties remain ahead. A lot of industries are severely affected by the current wave of Covid and restrictions that ensue, with still no clear visibility on the timing for the full re-opening of the economy thanks to the vaccine.
The solidity of companies in a number of the industries that rallied in recent weeks still risks being put at test, with large refinancing needs and rapid buildup of debt increasing the likelihood of defaults in the next two quarters.
The record economic contraction a lot of developed and emerging economies are currently experiencing also poses major budgetary risks and we can expect more political tensions and instability when the scale of the fiscal challenge for numerous economies gets revealed in the next quarters.
We believe that the Ffund can be a strong diversifier next to long equities and long credit in the environment lying ahead. After this market rotation, we see some degree of adjustment in the book on the momentum side, reducing risk on some lockdown plays. We however continue to see a large dispersion in valuations in the market and a large asymmetry in valuations across our Long and Short books (cf. below) which we would expect to benefit us in a risk-off environment.


Source: RAM AI as of 30/11/12, Bloomberg
Finally, in light of our previous ongoing researches, the research team has been working extensively to analyze this one-in-a-lifetime event and identify ways to decrease our portfolio risk to limit the impact of potential drawdowns of this scale in the future. While it is always painful to experience such an episode, we aim to identify the patterns that will help us to build a more robust optimization to tail risk, aiming at stabilizing portfolio returns in future tail events. Another promising source of risk diversification is our short-term alpha engine, capturing stock mean-reversion dynamics, currently in pre-production test before scale-up. The engine performed very positively last month, capturing some reversal dynamics between highly correlated stocks. We will look at deploying it as an alpha and frequency diversifier in the book, which we expect to improve the risk-adjusted return profile of the Fund.
*Important Information: RAM (LUX) Systematic Funds - EUROPEAN EQUITIES is a sub-fund of RAM (Lux) Systematic Funds, a Luxembourg SICAV with registered office: 14, Boulevard Royal L-2449 Luxembourg, approved by the CSSF and constituting a UCITS (Directive 2009/65/EC). This fund is currently registered in LU, AT, BE, CH, DE, DK*, ES, FI, FR, GB, IT, NL, NO, SE, PT, SG*.[* f or certain professional investors].
** RAM (LUX) Systematic Funds - LONG/SHORT EUROPEAN EQUITIES is a sub-fund of RAM (Lux) Systematic Funds, a Luxembourg SICAV with registered office: 14, Boulevard Royal L-2449 Luxembourg, approved by the CSSF and constituting a UCITS (Directive 2009/65/EC). The Fund is currently registered in LU, AT, CH, DE, DK*, ES, FI, FR, GB, IT*, NL, NO, SE and SG*. [* for certain professional investors]. Please note that the Class I EUR available in LU, AT, CH, DE, ES, FR, GB, IT, NL, SE and SG.
Direct access per fund to our latest Fund Manager's Comments:
Legal Disclaimer
This document has been drawn up for information purposes only. It is neither an offer nor an invitation to buy or sell the investment products mentioned herein and may not be interpreted as an investment advisory service. It is not intended to be distributed, published or used in a jurisdiction where such distribution, publication or use is prohibited, and is not intended for any person or entity to whom or to which it would be illegal to address such a document. In particular, the products mentioned herein are not offered for sale in the United States or its territories and possessions, nor to any US person (citizens or residents of the United States of America). The opinions expressed herein do not take into account each customer's individual situation, objectives or needs. Customers should form their own opinion about any security or financial instrument mentioned in this document. Prior to any transaction, customers should check whether it is suited to their personal situation and analyse the specific risks incurred, especially financial, legal and tax risks, and consult professional advisers if necessary. The information and analyses contained in this document are based on sources deemed to be reliable. However, RAM AI Group cannot guarantee that said information and analyses are up-to-date, accurate or exhaustive, and accepts no liability for any loss or damage that may result from their use. All information and assessments are subject to change without notice. Investors are advised to base their decision whether or not to invest in fund units on the most recent reports and prospectuses. These contain further information on the products concerned. The value of units and income thereon may rise or fall and is in no way guaranteed. The price of the financial products mentioned in this document may fluctuate and drop both suddenly and sharply, and it is even possible that all money invested may be lost. If requested, RAM AI Group will provide customers with more detailed information on the risks attached to specific investments. Exchange rate variations may also cause the value of an investment to rise or fall. Whether real or simulated, past performance is not necessarily a reliable guide to future performance. The prospectus, key investor information document, articles of association and financial reports are available free of charge from the SICAVs' and management company's head offices, its representative and distributor in Switzerland, RAM Active Investments S.A., Geneva, and the funds' representative in the country in which the funds are registered. This marketing document has not been approved by any financial Authority, it is confidential and its total or partial reproduction and distribution are prohibited. Issued in Switzerland by RAM Active Investments S.A. which is authorised and regulated in Switzerland by the Swiss Financial Market Supervisory Authority (FINMA). Issued in the European Union and the EEA by the Management Company RAM Active Investments (Europe) S.A., 51 av. John F. Kennedy L-1855 Luxembourg, Grand Duchy of Luxembourg. The reference to RAM AI Group includes both entities, RAM Active Investments S.A. and RAM Active Investments (Europe) S.A.
Please, select your profile and country of residence