The Disinflation in Emerging Markets - A Real Opportunity?
Driven by their high carry and better economic growth, Emerging Markets (EM) have shown a strong resilience year-to-date with local currencies posting a significant outperformance compared to Developed Markets (DM) peers. This EM foreign exchange (FX) strength has also improved the broader disinflation theme due to lower pass-through resulting from cost pressures.
We believe that, going forward, EM central banks will stick to their current cautious approach and maintain policy rates sufficiently above the US'. Until inflation is back to historical targets, the actual elevated rate differential will, ultimately, accompany the disinflation backdrop we observe in both core and headline data. This also means that, if growth disappoints, EM central banks are well positioned to start the easing cycle before their DM counterparts.
Even if EM central banks delay the rate cuts currently priced in the curves, EM local rates' outperformance can continue with larger cutting cycles being priced. In fact, a prolonged period of high nominal rates could strengthen EM currencies even more compared to G10 peers, increasing disinflation, and leaving room for rate cuts later on. In addition, we suspect that positioning in EM is far from being crowded, as hinted by multiple positioning surveys.
In the chart below, we present one risk premium measure available to Fixed Income investors associated with each country. The black dot shows the average real rates over the past five years, and the green bar predicts the real rates over the next 12 months if the market and analysts' forecasts prove accurate - estimating how much premium investors will pick up over future inflation. It also quantifies the future monetary policy conditions offered by central banks, which will impact the currency's attractiveness and short-term rates for local and foreign investors.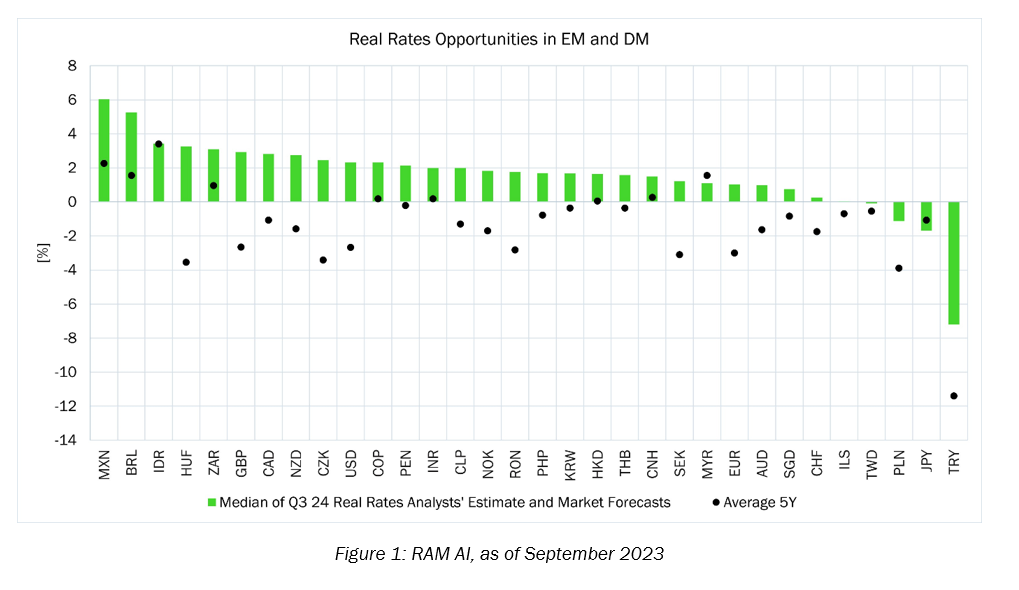 This shows that most EM countries can still be considered attractive, even with some rate cuts being priced in the curve, as they could offer nominal rates significantly above inflation over the next months. This is the case in Latin America, where long-duration bets represent an attractive opportunity, particularly in Mexico or Brazil.
Paul Arnould
Senior Fixed Income Quantitative Analyst
_______
Disclaimer
The figures, comments, opinions and/or analyses contained herein reflect the sentiment of RAM with respect to market trends based on its expertise, economic analyses and the information in its possession at the date on which this document was drawn up and may change at any time without notice. They may no longer be accurate or relevant at the time of reading, owing notably to the publication date of the document or to changes on the market.
This document is intended solely to provide general and introductory information to the readers, and notably should not be used as a basis for any decision to buy, sell or hold an investment. Under no circumstances may RAM be held liable for any decision to invest, divest or hold an investment taken on the basis of these comments and analyses.
RAM therefore recommends that investors obtain the various regulatory descriptions of each financial product before investing, to analyse the risks involved and form their own opinion independently of RAM. Investors are advised to seek independent advice from specialist advisors before concluding any transactions based on the information contained in this document, notably in order to ensure the suitability of the investment with their financial and tax situation.
Past performance and volatility are not a reliable indicator of future performance and volatility and may vary over time, and may be independently affected by exchange rate fluctuations.
This document has been drawn up for information purposes only. It is neither an offer nor an invitation to buy or sell the investment products mentioned herein and may not be interpreted as an investment advisory service. It is not intended to be distributed, published or used in a jurisdiction where such distribution, publication or use is forbidden, and is not intended for any person or entity to whom or to which it would be illegal to address such a document. In particular, the investment products are not offered for sale in the United States or its territories and possessions, nor to any US person (citizens or residents of the United States of America). The opinions expressed herein do not take into account each customer's individual situation, objectives or needs. Customers should form their own opinion about any security or financial instrument mentioned in this document. Prior to any transaction, customers should check whether it is suited to their personal situation, and analyse the specific risks incurred, especially financial, legal and tax risks, and consult professional advisers if necessary.
The information and analyses contained in this document are based on sources deemed to be reliable. However, RAM Active Investments S.A. cannot guarantee that said information and analyses are up-to-date, accurate or exhaustive, and accepts no liability for any loss or damage that may result from their use. All information and assessments are subject to change without notice. Subscriptions will be accepted only if they are made on the basis of the most recent prospectus and the latest annual or half-year reports for the financial product. The value of units and income thereon may rise or fall and is in no way guaranteed. The price of the financial products mentioned in this document may fluctuate and drop both suddenly and sharply, and it is even possible that all money invested may be lost. If requested, RAM Active Investments S.A. will provide customers with more detailed information on the risks attached to specific investments. Exchange rate variations may also cause the value of an investment to rise or fall. Whether real or simulated, past performance is not a reliable guide to future results. The prospectus, KIID, constitutive documents and financial reports are available free of charge from the SICAV's head office , its representative and distributor in Switzerland, RAM Active Investments SA, and the distributor in Luxembourg, RAM Active Investments SA. This document is confidential and addressed solely to its intended recipient; its reproduction and distribution are prohibited.