January 2020 - Coronavirus: Where's the pain? - Systematic Fund Manager's Comments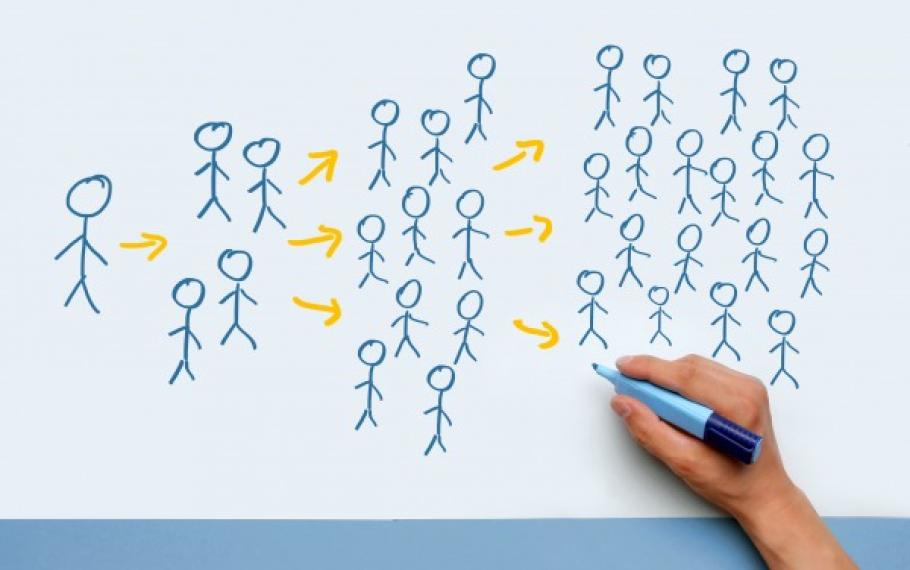 Asia under scrutiny
The rapid spread of a deadly virus from China remained at the forefront of investors' mind, exposing the fragility of global markets. Concerns that this outbreak could develop into a global pandemic halted a seven-week rally in EM equities, but with China's markets closed for New Year holidays, the contagion into wider Asia was perceptible (with Hong Kong and Taiwan taking the brunt of the panic selling). Despite a rising death toll and an ever increasing number of confirmed cases of the virus, global stocks came roaring back in the early part of February, seemingly shrugging off concerns that the virus won't derail the global economy.
For our all cap and fundamentally-driven strategies, this type of environment has been more challenging to generate alpha with sentiment rapidly switching from risk on, to off, with stocks' fundamentals being completely shunned. The volatility that greeted investors translated to small and mid-cap names (which typically have a greater dependency on domestic movements) taking a hammering. Amid such indiscriminate selling, stock selection became incredibly difficult as mega-cap names in the index benefitted from these moves (much of their business is reliant on developed economies). This non-selective environment tends to be followed by good rebound of our strategies as at the end of the day fundamentals prevail in the market!
Europe in Focus
European markets also caught some of the contagion from the Coronavirus, with certain industries heavily impacted such as; Airlines, Mining and Luxury Goods. Adding to the uncertainty surrounding key political events, European investors are right to be mindful of the direction of markets. Brexit finally happened, but negotiations promise a long a turbulent road before an agreement can be found. The ECB continues to promise strong support to the economy, but some market pundits are in the opinion that the ECB has probably reached the limit of its monetary policy, at least in terms further reducing interest rates. Following an extremely challenging year for equity market neutral strategies, hedge fund view Europe with great interest; increasing their exposure across their short book, seemingly attracted by those uncertainties and a recent uptick in volatility. 2020 perhaps has already witnessed the first positive signs for a return of investor flows into active managers, an element which could have positive consequences for our beta-neutral strategy. To date, our short book has performed extremely well across all engines (Momentum leading the way thanks to our short energy positions), providing a significant positive contribution to our RAM Long/Short European Equities Strategy.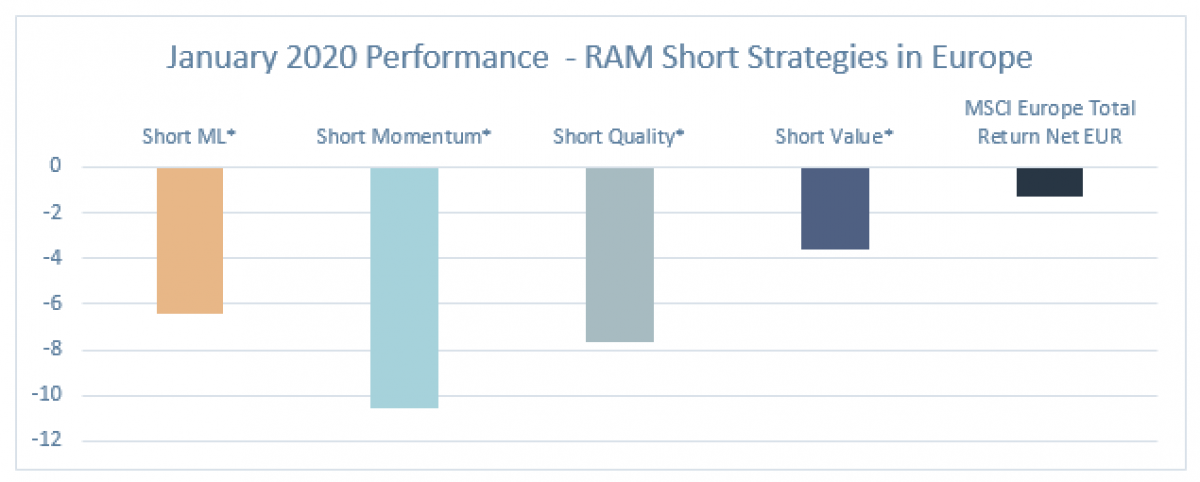 Source: RAM Active Investment as of 31.01.2020 (performance are gross of fee)

Finally, it is worth reminding that our Long/Short European Equities strategy positive behaviour in a volatile month for European equities is reinforcing the added value of such a strategy within a broader portfolio context, acting as a true diversifier.
RAM Global Bond Total Return Fund
Our Global Bond Total Return strategy continued to perform well amidst a limited correction in credit market and a marked flight-to-safety attitude from investors favouring developed market government bonds. We believe that the current environment requires to be tactical and diversified as credit spreads remain on the tight side. As a reminder, over the past weeks we have been reducing our credit exposure. The portfolio is currently tilted towards sovereign and quasi-sovereign names. January permitted us to selectively add new opportunities as the risk/reward became more appealing.
Direct access per fund to our latest Fund Manager's Comments:
Legal Disclaimer
This document has been drawn up for information purposes only. It is neither an offer nor an invitation to buy or sell the investment products mentioned herein and may not be interpreted as an investment advisory service. It is not intended to be distributed, published or used in a jurisdiction where such distribution, publication or use is prohibited, and is not intended for any person or entity to whom or to which it would be illegal to address such a document. In particular, the products mentioned herein are not offered for sale in the United States or its territories and possessions, nor to any US person (citizens or residents of the United States of America). The opinions expressed herein do not take into account each customer's individual situation, objectives or needs. Customers should form their own opinion about any security or financial instrument mentioned in this document. Prior to any transaction, customers should check whether it is suited to their personal situation and analyse the specific risks incurred, especially financial, legal and tax risks, and consult professional advisers if necessary. The information and analyses contained in this document are based on sources deemed to be reliable. However, RAM AI Group cannot guarantee that said information and analyses are up-to-date, accurate or exhaustive, and accepts no liability for any loss or damage that may result from their use. All information and assessments are subject to change without notice. Investors are advised to base their decision whether or not to invest in fund units on the most recent reports and prospectuses. These contain further information on the products concerned. The value of units and income thereon may rise or fall and is in no way guaranteed. The price of the financial products mentioned in this document may fluctuate and drop both suddenly and sharply, and it is even possible that all money invested may be lost. If requested, RAM AI Group will provide customers with more detailed information on the risks attached to specific investments. Exchange rate variations may also cause the value of an investment to rise or fall. Whether real or simulated, past performance is not necessarily a reliable guide to future performance. The prospectus, key investor information document, articles of association and financial reports are available free of charge from the SICAVs' and management company's head offices, its representative and distributor in Switzerland, RAM Active Investments S.A., Geneva, and the funds' representative in the country in which the funds are registered. This marketing document has not been approved by any financial Authority, it is confidential and its total or partial reproduction and distribution are prohibited. Issued in Switzerland by RAM Active Investments S.A. which is authorised and regulated in Switzerland by the Swiss Financial Market Supervisory Authority (FINMA). Issued in the European Union and the EEA by the Management Company RAM Active Investments (Europe) S.A., 51 av. John F. Kennedy L-1855 Luxembourg, Grand Duchy of Luxembourg. The reference to RAM AI Group includes both entities, RAM Active Investments S.A. and RAM Active Investments (Europe) S.A.
Please, select your profile and country of residence