August 2019 - Emerging Markets at RAM: A 10-year perspective - Systematic Fund Manager's Comments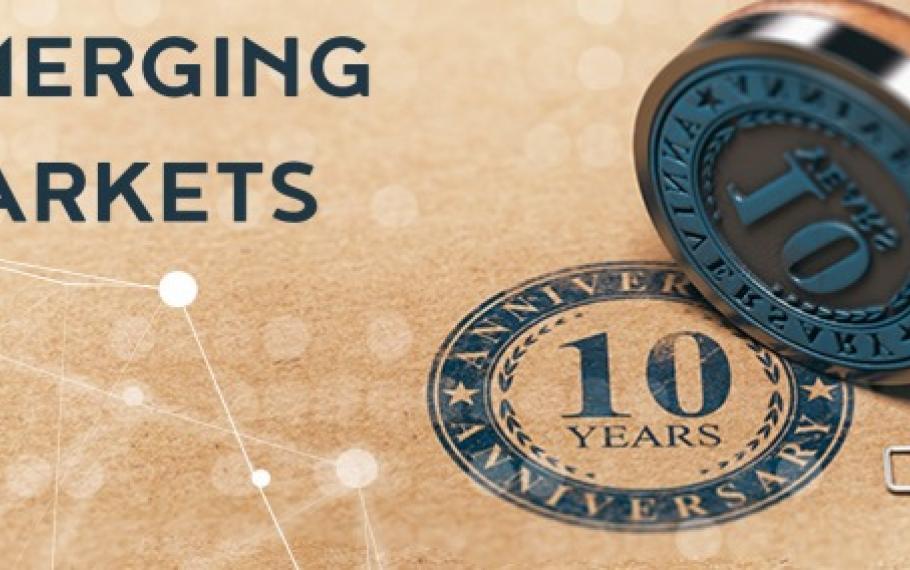 5 things that have underpinned our investment case.
1. An Unwavering Systematic Solution
We capture persistent fundamental inefficiencies that deliver sustainable alpha. This is our conviction as fund managers. We look at fundamental factors through a quantitative lens. Our research in this space enables us to build multi-factor models which are the foundation for our engines. These engines look to capture a specific type of inefficiency in their respective universe. Our edge lies in taking a fundamental approach by amalgamating Value and Defensive strategies, playing the convergence with the market. The behavioural component then is expressed via our GARP/Momentum strategies that tend to outperform in trending markets, playing dispersion within the market.
Our philosophy remains unchanged since we began investing here. However, our process is adaptable and evolutive, meaning we do make incremental changes to our alpha engines. We believe our systematic approach is more robust over time as it removes any discretionary inputs. We've seen this negative effect of "herd mentality" during the 2008 Global Financial Crisis and the Dotcom crash in the 90's. This is the tendency of investors to mimic the behaviour of other market participants, which can lead to "bubbles" and price trends in particular asset classes, sectors or even individual stocks. As systematic investors, we eliminate these emotional biases.
2. Emerging Markets: The Long-Term View
It's all too easy to become absorbed by the shorter-term geopolitical and macroeconomic influences that punctuate markets daily, long-term structural changes continue to create a fertile selection opportunity for active managers.
We've been investing in Emerging Markets for over 10 years. Our models are constantly updated with the very latest market information. It has been our experience, and it is born out in our performance numbers that this approach extracts alpha over the medium term.
3. Research Inspires Our Conviction
Our research here at RAM is an iterative process. Our aim is to ensure we never neglect any possible relevant information source that could be integrated into our process and thus enable us to better-capture the inefficiencies we seek to exploit. Our most recent research initiative is the implementation of a machine learning infrastructure. In April last year we deployed our Machine Learning "ML" Strategy within our Emerging Markets Strategy (see chart below).
Thanks to the ML Strategy we have a higher degree of diversification across our main portfolio building blocks. The ML strategy takes a broader perspective on inefficiencies that helps us identify names that we were not considering due to their "non-pure" characteristics. ML has enabled us to add to our portfolios between 80 and 100 names in our selection. This enables us to further diversify our risks, and it represents a positive alpha contributor, as illustrated below.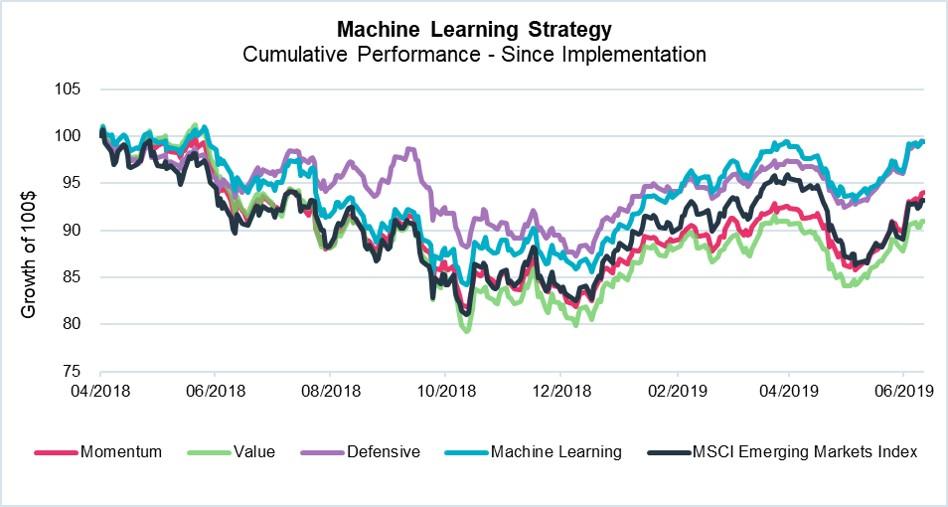 4. Go All-Cap, Be Active
Our approach to capturing fundamental inefficiencies lies within a flexible market cap approach, with as little stock-specific risk as possible. Over the long-term our all-cap approach has provided an important source of alpha to our investors. Small and mid-caps, owing to the domestic orientation of their revenue, tend to display a different behavior than their large-cap counterparts (aside from market shocks), acting as a true portfolio diversifier.
Small and mid-caps have lagged since the beginning of 2016, largely owing to the growing phenomenon of liquidity-hunting ETFs and other passive investors, distorting valuations and the pricing of risk. However, historically, outperformance of large caps at the beginning of a recovery is typical. In the past, SMID caps have tended to catch up once Central Banks' rate tightening cycle ends. For us, it's indicative of an attractive entry point for investors.
While ETFs and other passive vehicles offer cheap and convenient access to emerging markets, they represent unwarranted risk and an inability to profit from the dynamic and idiosyncratic nature of the asset class, and hence the significant opportunity for alpha.
5. Performance Put in Context
The RAM Emerging Markets Equities Strategy uses a fundamental systematic stock selection
approach to capture a wide array of fundamental inefficiencies in an all-cap universe of stocks, highly diversified across small, mid, and large caps as well as Value, Low-Risk and Growth/Momentum investment styles.
We offer access to unique opportunities across market cap segments quasi absent from ETF allocations. We aim to maximise the long-term alpha generated within a broad EM Universe, with strong liquidity and market risk management, helping us to achieve excess returns over the longer-term vs more concentrated indices like the MSCI Emerging Markets Index, with less volatility.
Our achievements are evidenced below: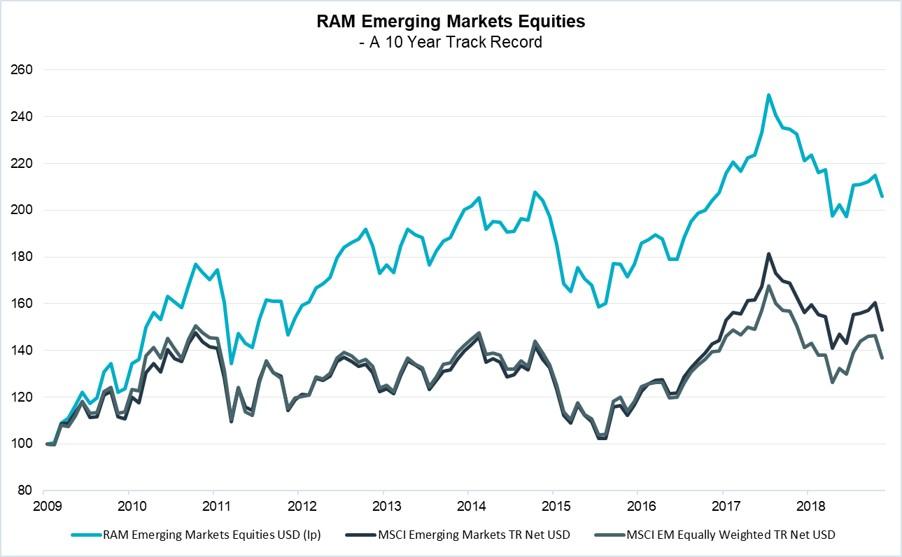 Direct access per fund to our latest Fund Manager's Comments:
Legal Disclaimer
This document has been drawn up for information purposes only. It is neither an offer nor an invitation to buy or sell the investment products mentioned herein and may not be interpreted as an investment advisory service. It is not intended to be distributed, published or used in a jurisdiction where such distribution, publication or use is prohibited, and is not intended for any person or entity to whom or to which it would be illegal to address such a document. In particular, the products mentioned herein are not offered for sale in the United States or its territories and possessions, nor to any US person (citizens or residents of the United States of America). The opinions expressed herein do not take into account each customer's individual situation, objectives or needs. Customers should form their own opinion about any security or financial instrument mentioned in this document. Prior to any transaction, customers should check whether it is suited to their personal situation and analyse the specific risks incurred, especially financial, legal and tax risks, and consult professional advisers if necessary. The information and analyses contained in this document are based on sources deemed to be reliable. However, RAM AI Group cannot guarantee that said information and analyses are up-to-date, accurate or exhaustive, and accepts no liability for any loss or damage that may result from their use. All information and assessments are subject to change without notice. Investors are advised to base their decision whether or not to invest in fund units on the most recent reports and prospectuses. These contain further information on the products concerned. The value of units and income thereon may rise or fall and is in no way guaranteed. The price of the financial products mentioned in this document may fluctuate and drop both suddenly and sharply, and it is even possible that all money invested may be lost. If requested, RAM AI Group will provide customers with more detailed information on the risks attached to specific investments. Exchange rate variations may also cause the value of an investment to rise or fall. Whether real or simulated, past performance is not necessarily a reliable guide to future performance. The prospectus, key investor information document, articles of association and financial reports are available free of charge from the SICAVs' and management company's head offices, its representative and distributor in Switzerland, RAM Active Investments S.A., Geneva, and the funds' representative in the country in which the funds are registered. This marketing document has not been approved by any financial Authority, it is confidential and its total or partial reproduction and distribution are prohibited. Issued in Switzerland by RAM Active Investments S.A. which is authorised and regulated in Switzerland by the Swiss Financial Market Supervisory Authority (FINMA). Issued in the European Union and the EEA by the Management Company RAM Active Investments (Europe) S.A., 51 av. John F. Kennedy L-1855 Luxembourg, Grand Duchy of Luxembourg. The reference to RAM AI Group includes both entities, RAM Active Investments S.A. and RAM Active Investments (Europe) S.A.
Please, select your profile and country of residence