RAM Active Investments to absorb research costs to the benefit of clients under MiFID II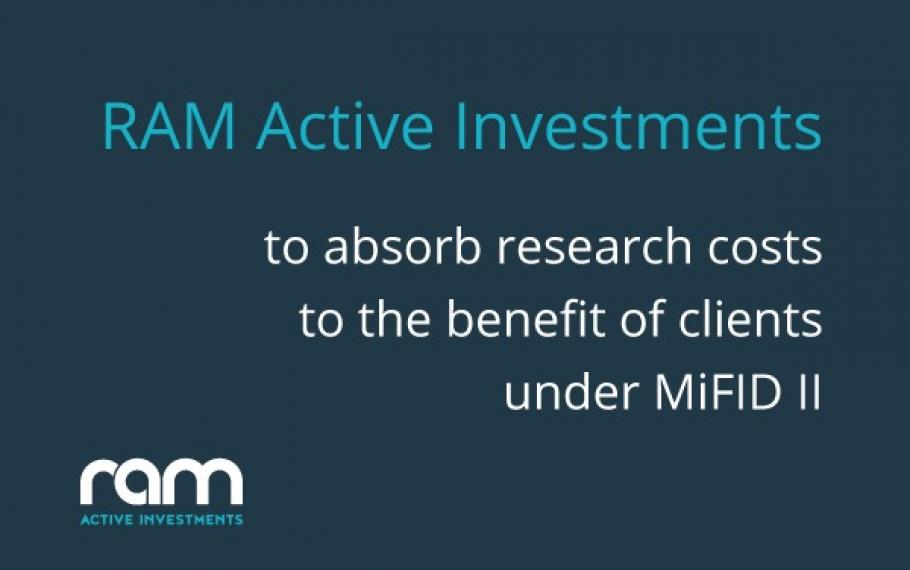 GENEVA 12 OCTOBER 2017 – RAM Active Investments ("RAM AI"), the active and alternative asset manager, has announced it will absorb the cost of external research commissioned on behalf of investors. The announcement has come ahead of MiFID II, the new European Union rules which are due to come into effect in January 2018.
To the interest of clients, RAM AI will be paying research costs up front and directly from their own account in line with these new regulations, rather than passing on the extra cost on to clients in the form of an additional charge or a fee. RAM AI already offers extensive internal research capabilities which form a fundamental part of their offering as an active manager. For investors, additional external research will now be treated in the same manner and the costs accrued will not be billed to clients.
Thomas de Saint-Seine, CEO & Senior Equity Fund Manager, said: "At RAM AI, we have always supported all research costs for our Systematic fundamental funds as they purely rely on in-house R&D. Regarding our tactical fixed income funds, we will absorb external research costs under MIFID II in order maintain the current level of fee, quality and value to all our investors. This effort is done in order to increase further our trusted and transparent relationship with our investors."
The announcement comes as RAM AI continues its preparations for the implementation of the General Data Protection Regulation (GDPR) in May 2018. Despite the fact that the institutional asset management activities conducted by RAM AI are less concerned by the holding and processing of personal data, the asset manager has been working to create an internal model which is compatible with the requirements of the GDPR.
For any further information, please contact: communication@ram-ai.com