CheBanca! signs an agreement with RAM Active Investments and widens its open platform with systematic strategies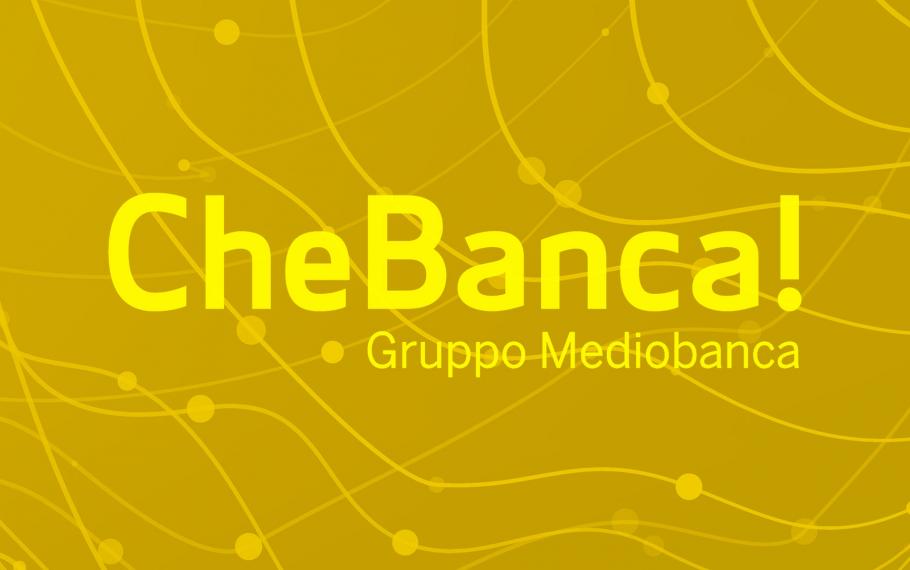 Milan, 3 July 2018 – CheBanca! opens its investment platform to systematic strategies through RAM Active Investments (RAM), a leading systematic asset manager in Europe, with whom Mediobanca signed a strategic partnership last year, acquiring 69% of the company's capital.
This distribution agreement allows CheBanca! to diversify and enrich its offering, integrating the systematic approach, an area in which RAM is an award-winning and leading specialist. The agreement enables RAM to reinforce its business to Italian retail investors.
Precisely, RAM will make its know-how available to the client base of CheBanca! through 11 funds encompassing systematic equity long-only, liquid alternative strategies and discretional fixed-income strategies.
"We continue to grow in the asset management industry, catching the new opportunities that systematic investments are opening on the market" commented Alessandro D'Agata, general director of CheBanca!, adding: "thanks to the collaboration with Mediobanca SGR, we work in a guided open architecture scheme, which enables us to build and manage efficient portfolios relative to different risk/reward profiles, inside of which RAM's strategies could represent an interesting and distinctive element in order to pursue our clients' investments goals".
RAM, a Swiss asset manager, founded in 2007 in Geneva and currently managing around €4,2 billion of assets [1], stands out for its strong systematic expertise, making it one of the leading European players specialized in this method.
In this regard, RAM's investment strategy is based upon a bottom-up approach of stock selection, driven by fundamentals and applied in a systematic way. The company's strong conviction is indeed that a disciplined approach to investments can take advantage from equity market's inefficiencies in a continuative manner, now more than ever, since technology gives the chance to leverage on Big Data and Artificial Intelligence to analyze an ever-growing number of data in a few seconds.
This systematic strategy underpins all the equity solutions of RAM, which gives investors the possibility to invest on the main markets with both long-only and long/short approaches. The fixed-income active funds' range of RAM, on the other hand, is based upon discretional niche strategies that, through an innovative and flexible investment process, aim to generate attractive risk-adjusted returns in the long term.
The combination of talent, technology, research activity and internal analysis are at the core of the ability of RAM's strategies to generate consistent alpha on the long term, across different economic cycles.
Marco Parini, CIO of CheBanca! added: "We have always been promoting a balanced mix of competence and innovation, in other words between the value of a high-level advisory and the support of advanced investment platforms. The aim is to create the best portfolios for each client in terms of selection, allocation and planning, limiting the interference of potential emotional choices by clients.
In the construction of a portfolio, diversification based on strategies and investment styles is an important aspect and, in this regard, the products based on a systematic approach can offer an important contribution, improving the medium and long-term performances of the portfolio".
Thomas de Saint-Seine, CEO of RAM commented: "The partnership with CheBanca! will foster our access to the retail distribution and opens a new phase for RAM in Italy. We have been working successfully with different institutional partners, fund selectors and fund managers for several years. Starting from today, the Italian market becomes even more important for our development plans. The assets' growth that this will imply and the support of Mediobanca as a strategic partner will enable us to invest an even more consistent amount of resources in innovation and research, elements that are essential in order to be competitive in the systematic active management segment, especially in this context of growing importance of Big Data and Artificial Intelligence".

The UCITS fund [2] range of RAM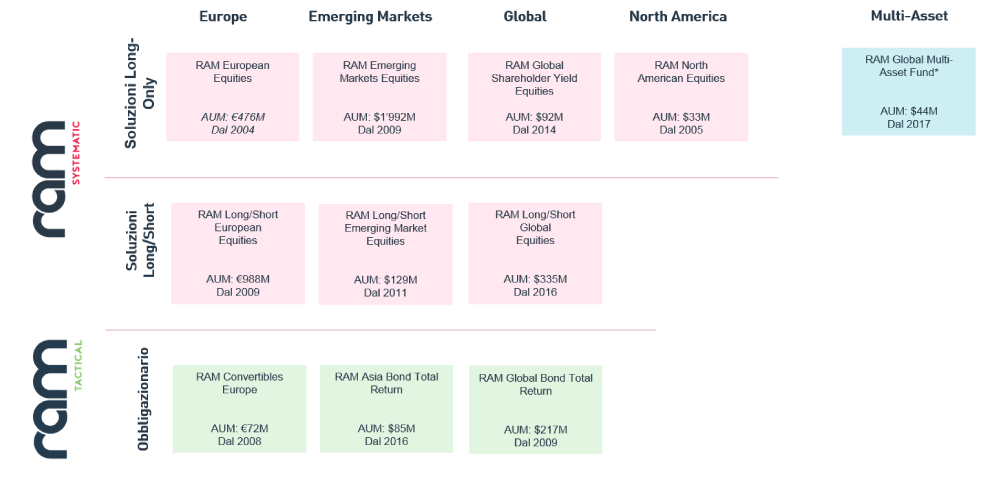 *We are in the process of registering the RAM Global Multi-Asset Fund for distribution in Italy.
Funds AUM as of 31 May 2018.
[1] As of 31 May 2018
[2] This document is for informative purpose only and does not constitute an offer, investment advice or solicitation to purchase or sell any investment products. Please consult the latest financial product documents before a subscription: prospectus, investor information document (KIID) and annual or semi-annual reports. The prospectus, the constitutive documents and financial reports (in English) as well as the KIID in Italian language are available free of charge at the offices of the SICAV, Management Company, RAM Active Investments SA, on https: //ram-ai.com and your relevant paying agent in Italy.

CheBanca!
CheBanca! is a Mediobanca Group company focused on wealth management dedicated to clients in the affluent and premier brackets. Set up in May 2008, it combines the Group's skills and expertise on financial markets with a strong digital innovation component. The result is a unique business model where clients can call on the professionalism and experience of its bankers via a multi-channel approach able to meet all their specific needs.
CheBanca! offers traditional banking products, such as current accounts and credit cards, loans, mortgages and insurance, and professional advisory services for asset management and investments via a complete range of funds, financial products and investment strategies.
It currently has over 800,000 clients and more than €22bn in deposits.
RAM Active Investments
RAM is an active and alternative asset manager which offers a range of fundamental systematic equity ("RAM Systematic Funds") and discretionary fixed-income ("RAM Tactical Funds") funds to a wide array of institutional and professional investors:
RAM Systematic Funds: as bottom-up active and alternative specialists, the RAM Systematic Team seeks to achieve for his clients consistent alpha-generation over the long-term, across business cycles. Its strategies apply fundamental insights in an objective and disciplined manner, while taking advantage of market fragmentation, to uncover a broader spectrum of investment opportunities presented by behaviour-led inefficiencies. RAM Systematic Funds aim to provide investors with high risk-adjusted performance accompanied by compelling diversification and liquidity benefits.
RAM Tactical Funds: to help clients navigate through uncharted interest rate environments and increasingly volatile market conditions, the RAM Tactical team is tasked with the responsibility to bring new thinking and unconventional approaches to the discretionary investment discipline. Focused on exploiting asymmetrical opportunities and the generation of attractive risk-adjusted returns, RAM Tactical Funds currently offer niche investment strategies across the fixed income spectrum.

PRESS CONTACTS:
CheBanca!/Mediobanca:
Media Relations
Stefano Tassone / Simona Rendo
Tel. no.: (+39) 02-8829. 319/914
media.relations@mediobanca.com

RAM Active Investments
Media Relations for Italy - Verini & Associati
Mario Tino/Elisa Strada/Denise Bosotti
Tel. no.: (+39) 02 45395500
ram@verinieassociati.com