July 2020 - Strong Stock Picking Environment - Systematic Fund Manager's Comments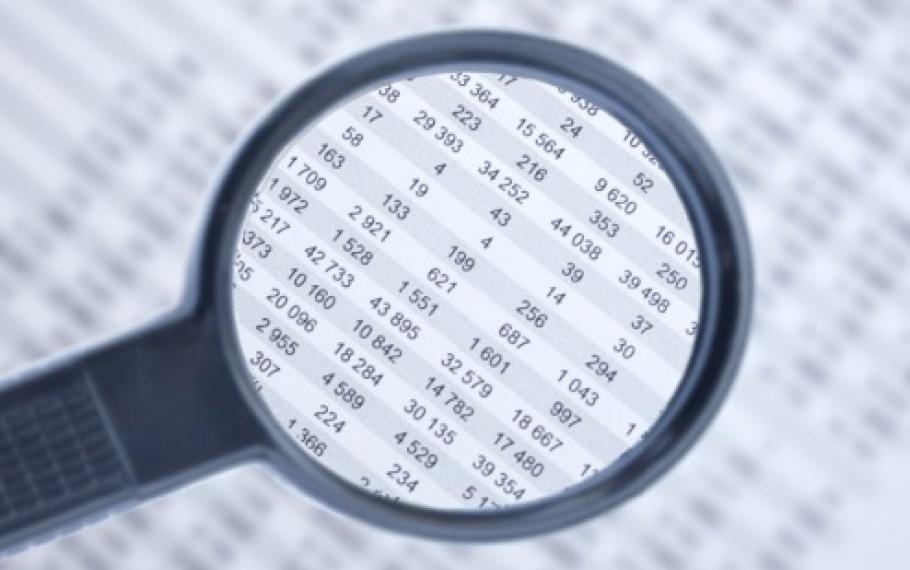 Strong Stock Picking Environment – Both Longs and Shorts Alpha Generative
The US and European Q2 GDP numbers revealed the sharpest decline in the post-war era. Furthermore, the increase in the number of global Covid-19 infection cases and renewed US-China tensions did not drag on investors' sentiment as positive developments linked to a potential vaccine and European leaders' agreement on the massive EUR 750 billion recovery plan supported the good tenure of risk assets globally. The only exception to the rule was the European equity market which ended the month in negative territory, mainly due to the strength of the against major currencies, making some European companies less competitive.
A detailed analysis of the European equity market shows that dispersion was high at several levels during the month of July. To illustrate this, the below tables show the out/under-performance of the market by industry, equity style factor and market cap. Dark colours indicate a strong deviation from the MSCI Europe TRN Index.
Industry, Style Factor and Market Cap Performance vs MSCI Europe TRN Index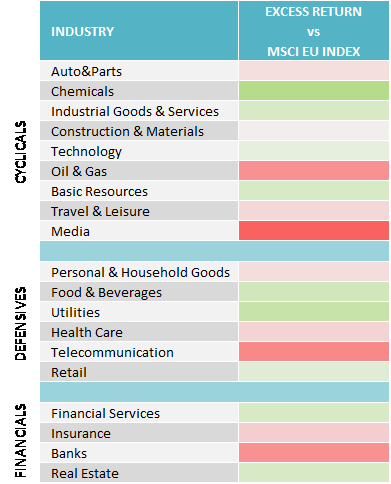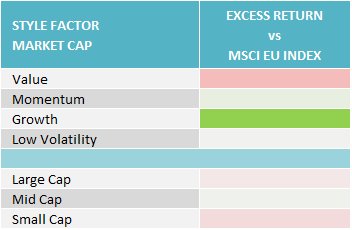 Source: Bloomberg, MSCI Indices, RAM AI, as of 31.07.2020
In this environment, our stock picking engines worked perfectly and generated strong alpha both on Longs and Shorts in our Equity Market Neutral strategies. Thanks to a high return dispersion, our Long Momentum and Low Risk books, skewed respectively towards tech/e-commerce and non-cyclical sectors currently, contributed very positively. Our Long Value strategies also outperformed the broad market despite more book-based Value being hurt last month. On the short single names book front, the positive alpha was mainly generated through our Low-Quality, Machine Learning and Momentum strategy picks.
RAM Long/Short European Equities sub-strategies exhibited the following behaviour versus MSCI Europe TRN Index over the month, highlighting the strong alpha generated on both Longs and Shorts.
RAM Long/Short European Equities Sub-Strategies vs MSCI Europe TRN Index

Source: Factset, MSCI Indices, RAM AI, as of 31.07.2020
Note: sub-strategies returns are gross of fees
Our Global Market Neutral strategy has recovered 14% from its June lows and is now up close 1.8% YTD (Class PI USD, as of 31.07.2020), with strong performance of our Value-biased engines. As our global market neutral strategy was the first of our funds hurt by the broad systematic Value unwind that started in 2018 (two quarters ahead of our European market neutral fund) it bodes well for the recovery that just started in Europe.
Direct access per fund to our latest Fund Manager's Comments:
Legal Disclaimer
This document has been drawn up for information purposes only. It is neither an offer nor an invitation to buy or sell the investment products mentioned herein and may not be interpreted as an investment advisory service. It is not intended to be distributed, published or used in a jurisdiction where such distribution, publication or use is prohibited, and is not intended for any person or entity to whom or to which it would be illegal to address such a document. In particular, the products mentioned herein are not offered for sale in the United States or its territories and possessions, nor to any US person (citizens or residents of the United States of America). The opinions expressed herein do not take into account each customer's individual situation, objectives or needs. Customers should form their own opinion about any security or financial instrument mentioned in this document. Prior to any transaction, customers should check whether it is suited to their personal situation and analyse the specific risks incurred, especially financial, legal and tax risks, and consult professional advisers if necessary. The information and analyses contained in this document are based on sources deemed to be reliable. However, RAM AI Group cannot guarantee that said information and analyses are up-to-date, accurate or exhaustive, and accepts no liability for any loss or damage that may result from their use. All information and assessments are subject to change without notice. Investors are advised to base their decision whether or not to invest in fund units on the most recent reports and prospectuses. These contain further information on the products concerned. The value of units and income thereon may rise or fall and is in no way guaranteed. The price of the financial products mentioned in this document may fluctuate and drop both suddenly and sharply, and it is even possible that all money invested may be lost. If requested, RAM AI Group will provide customers with more detailed information on the risks attached to specific investments. Exchange rate variations may also cause the value of an investment to rise or fall. Whether real or simulated, past performance is not necessarily a reliable guide to future performance. The prospectus, key investor information document, articles of association and financial reports are available free of charge from the SICAVs' and management company's head offices, its representative and distributor in Switzerland, RAM Active Investments S.A., Geneva, and the funds' representative in the country in which the funds are registered. This marketing document has not been approved by any financial Authority, it is confidential and its total or partial reproduction and distribution are prohibited. Issued in Switzerland by RAM Active Investments S.A. which is authorised and regulated in Switzerland by the Swiss Financial Market Supervisory Authority (FINMA). Issued in the European Union and the EEA by the Management Company RAM Active Investments (Europe) S.A., 51 av. John F. Kennedy L-1855 Luxembourg, Grand Duchy of Luxembourg. The reference to RAM AI Group includes both entities, RAM Active Investments S.A. and RAM Active Investments (Europe) S.A.
Please, select your profile and country of residence